Rue and Gwen Gibson Farm Market
Dairy
The Rue and Gwen Gibson Farm Market offers a wide range of dairy products all produced by the Fresno State Dairy Processing Unit, which is run and maintained by students.
One of our most popular products is our ice cream! There are a variety of different flavors and ice cream sandwiches to choose from. Vanilla to Black Walnut and Java Cappuccino Chip, there is something here to fulfill anyone's ice cream needs. Below is a more complete list of our ice cream offerings
.** Don't forget that we now offer scoops of ice cream in a cup or a cone!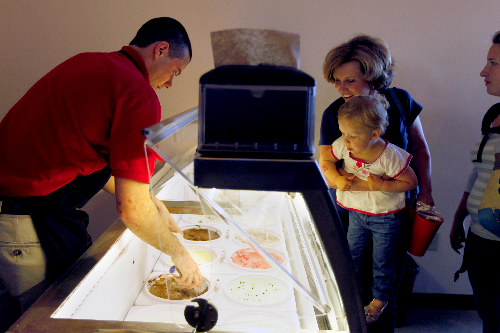 Besides meeting your ice cream cravings, the students also produce a variety or other dairy products. We have our reduced fat, fat free or whole milk, along with an array of butter spreads and cheeses.
*Product availability may be limited. For current inventory please call the market at (559) 278-4511*
Resources
Products

Apple Pie
Banana Nut
Black Cherry
Black Raspberry
Black Walnut
Bulldog Tracks
Butter Pecan
Cake Batter
Cake Batter Cookie Dough
Cake Batter Confetti*
Caramel Toffee
Chocolate
Chocolate Chip
Chocolate Chocolate Chip
Chocolate Cookies and Cream
Chocolate Fudge Brownie
Chocolate Peanut Butter
Cookie Dough
Coconut
Coconut Almond Chip
Coconut Pineapple
Cookies and Cream
Eggnog *
Green Tea
Java Cappuccino Chip
Java Chip

* Seasonal Flavor

Java Chocolate Caramel Cup
Java Jolt
Lemon
Lemon Sherbet
Lime Sherbet
Maple Nut
Mint Chip
Mint Cookie Crush
Orange Sherbet
Peach
Pecan Praline
Peppermint Candy *
Pistachio
Pumpkin *
Raspberry Romance
Raspberry Sherbet
Rocky Road
Root Beer Float
Rum Raisin*
Sinful Cinnamon*
Strawberry
Strawberry Lemonade Sherbet
Tahitian Vanilla
Toasted Almond
Vanilla
Vanilla (No Sugar Added)